Home Indoor Motion Sensor Light, Battery Powered or Wired?
For indoor motion sensor lights, there are battery-powered lights and wired lights. Battery-powered lights mean no fumbling around with wires, while wired lights get rid of replacing batteries but need a power connection.
How to choose
If you plan to install one in the space that are designed to storage, which has no preset holes for wires, wireless motion sensor lights are the best. They are easy to install with magnet or adhesive tapes, which keeps your storage room intact.
Another advantage of wireless light is that it can be placed anywhere you want to. This is significant as we don't have power outlets everywhere in our home. And the power outlets are always placed at corners to make the space better-looking. It happens that you obtain a wired light but have to place it near the power instead of your desired place for light. And you have to think about the length of the cord. In this case, wireless or battery-powered lights are much easy to use since they do not occupy power outlets and you can freely use the power outlets as you used to. 
When it comes to the charging, you do not need to buy new batteries and replace lights nowadays. Try wireless lights with detachable and rechargeable batteries and you can just take off the battery to charge.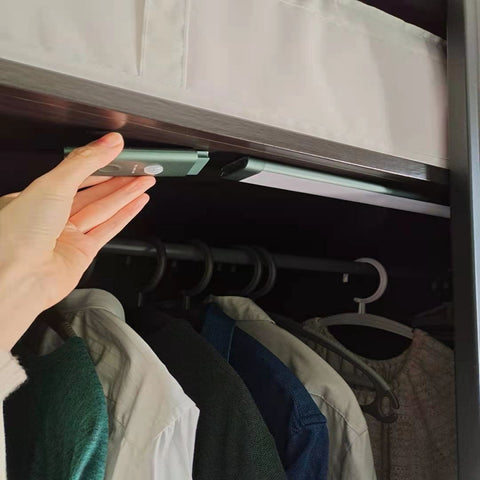 ---
---